If you send one wrong email, it can drastically hurt your email marketing business. For example, subscribers may get frustrated and stop following you if it has multiple grammatical errors. Or, if you sound too pushy to buy a product, subscribers may think you only want their money. This is why it is crucial to use email swipe file templates! When using email templates, you know there is the perfect balance between words, promotions, testimonials, and relationship building!
What are Email Swipe File Templates?
Email templates are a collection of well-crafted emails. This includes everything from advertising to sale letters. Thankfully, this means you can stop spending hours trying to come up with the perfect email! Instead, you can take the ideal structure for an email and add your personal touches.
Email marketing is challenging. So many people are trying to make the business work, so every email must be well-written. However, this can take hours to do! So, these email templates are ready to transform your business by creating an engaged community and driving traffic to your products.
Specifically, there are 37 email templates designed exclusively for teacher-authors! Each template has spots for plug-and-play details, so you know exactly where to input your content. Ultimately, this means you can write the perfect email within minutes! Thankfully, your focus can be on maximizing your earning potential instead of stressing over every word within the email.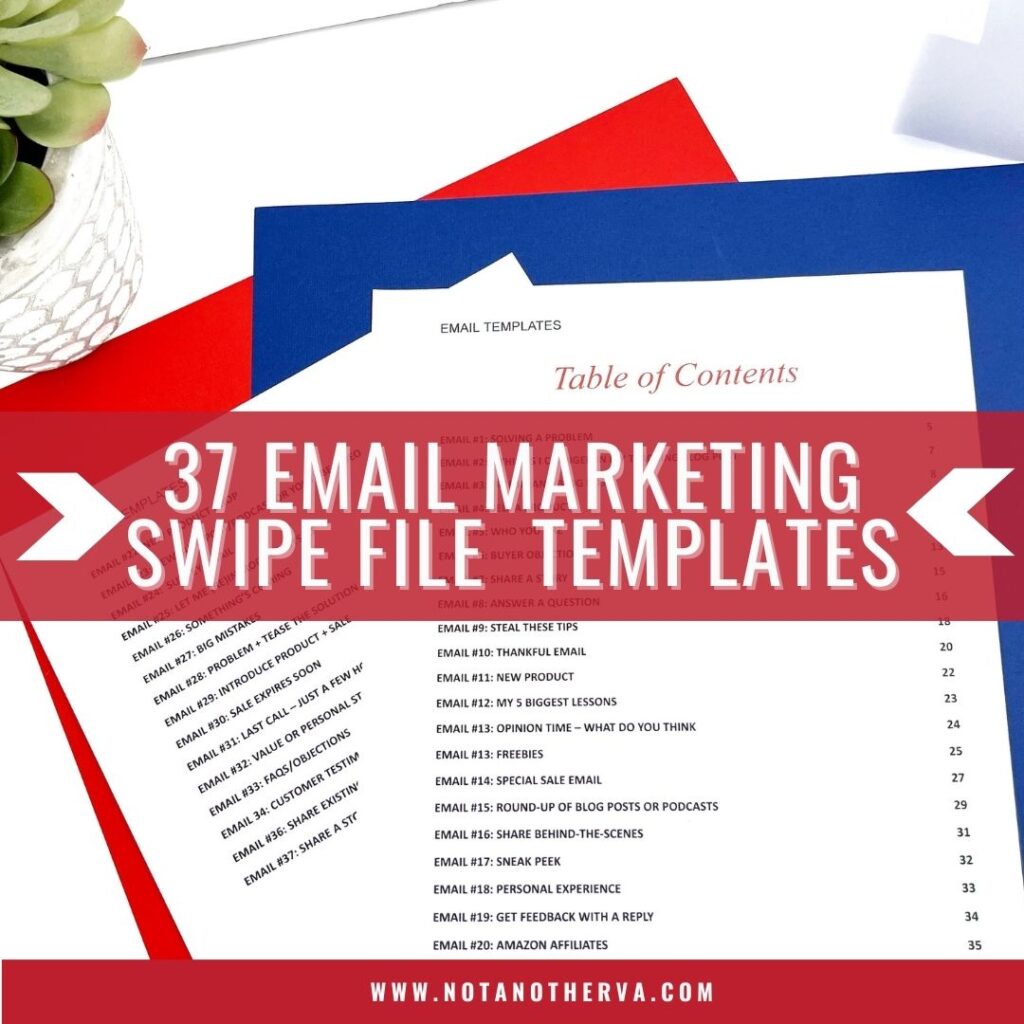 37 Email Swipe File Templates
You can maximize your earning potential with email marketing with these 37 templates designed exclusively for teacher-authors.
Sample Email Templates
Honestly, teacher-authors send a wide variety of emails. This includes positive changes made to teaching, selling products, and sharing a story. Or, teacher-authors want to express gratitude to subscribers, answer questions, or share a freebie. Luckily, all of these examples are within the email swipe file templates! The 37 offerings ensure there is a format that can fit almost every need!
Plugging in the Details
Teacher-authors are busy! So, the email templates all feature quick and simple ways to add essential details. Specifically, you will see the text in [red + brackets]. This is where you will fill in the vital information about your business, audience, and personal stories.
Then, there are words in blue where you link a post, product link, course, or podcast. You can link anything your subscribers will benefit from here.
After you fill in this information, you can copy and paste your email into your favorite email provider. It will have the ideal blend of building relationships with your subscribers and showing ways you can help them. It is truly that easy to transform your email marketing business and see tremendous growth in subscribers and sales!
Honestly, the Email Swipe File Templates will be a game changer for your growing business! Not only can you write emails so much faster, but you are ensuring they nurture and engage your community.
If you want all email marketing tips, join my email list to be notified of all exciting products, offerings, and tools! By joining the email list, you will also receive freebies for blog exclusive subscribers!